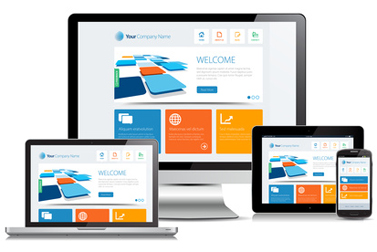 American Executive Centers provides everything you need for the best website possible, from features to navigation, and copywriting to typography and design. We work with you to create custom, visually stunning websites, in a cost-effective and timely manner, targeted specifically toward your visitors.
Website Design:  We specialize in custom website solutions, crafted to meet and exceed your expectations. As your business grows, we can provide sound advice and recommendations that fit your particular needs and budget. Our goal is to build continuing relationships with our clients and help them to manage the ongoing changes in web technologies.
Website Development: We review web analytics and perform user testing to make further refinements based on both quantitative and qualitative data including: Content Management Systems (CMS), E-Commerce, Web Based Applications, WordPress and Social Media Integration.
Graphic Design: Our team of professional graphic designers design your logo, marketing materials, and website. We work closely with our clients to ensure you receive a customized design quickly and efficiently to help you market your business.
WordPress Websites: The best way to keep your website at the top of search engines like Google is to always keep your website content fresh and up-to-date.  Accomplishing this can be easy and cost-effective by using a content management system (CMS) like WordPress.  American Executive Centers has extensive experience in creating customized WordPress websites.  The combination of a publishing platform with the ability to customize not only the look and feel, but also the functionality, makes it the ideal solution for the small business.
WordPress Security: Websites are compromised all of the time; it has become common occurrence and it does not matter if you think your site may not be worth hacking. These attacks – or hackings – are not personal attacks, not always for financial gain or about stealing data; it is a criminal, commercial business and it is booming. Bots scan the web looking for sites that can be used to relay email for spam, setup a counterfeit storefront to sell knock-off products, or to setup up a temporary server to serve files of illegal nature. The purpose is to use your good name & standing until Google flags your listing with "This Site May Be Hacked". The longer this stays, the lower you rank will be.
We specialize in hardening WordPress websites to limit and prevent these types of attacks. We will evaluate your site and provide recommendations to make your site more secure. We will provide guidelines on posting, managing plug-ins and forms.
Attacks cannot be completely prevented, but they can drastically reduce with the proper software and awareness.
Search Engine Optimization:  Traditional marketing is no longer enough anymore, online visibility is key to gaining new clients for any business. When your site is highly ranked in the major search engines such as Google, Bing and Yahoo – your business will go from being unseen to selling 24/7.  We will work closely with you to ensure that your website makes the most of major search engines. Our approach combines multiple disciplines in order to provide a complete solution, including Website Redesign Services, HTML Code Standardization, Landing Page Design and Development, Keyword Discovery and Implementation, Social Media Marketing, PPC Campaign Management Services, and Link Building Services.
Contact us at 800-736-6034 for Website Design Services Today!