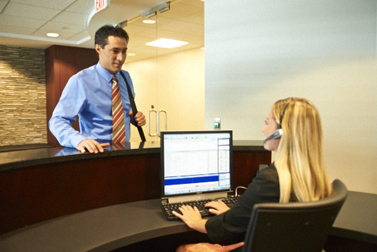 Our Front Desk Concierges and Telephone Receptionists are there to make a great first impression for you each and every time. We employ only the best of the best telephone receptionists and front desk concierges, all who will wow your clients with courteous professionalism every day.
All of our concierges and receptionists:
Provide world class telephone answering and greeting service based on your specific instructions
Are polite and knowledgeable
Have earned Levels I, II, and III Receptionist Certifications
Have instant access to your Executive Office System profile
Can help you maintain your personal calendar to keep you on track with your busy schedule
Front Desk Concierge
Your Front Desk Concierge understands the importance of a great first impression. The concierge will welcome your guests and announce them in your elegant Reception Area. Your front desk concierge is also available to provide professional and efficient assistance at your convenience. A small example of the ways we can help you include:
Setting up meetings and Conference Rooms to your specifications
Arranging catering or coffee service
Scheduling and confirming appointments
Obtaining and setting up audio/visual equipment
Making travel arrangements
Sorting and holding mail
Shipping and receiving packages
Researching and recommending services like restaurants and hotels
Maintaining your personal calendar to keep your busy schedule on track
No request is too simple or too complicated, and special requests are always welcome. We are here to help you succeed.
Enhanced Phone Answering
Our receptionist team provides the very best in customer service to each and every caller, every time. To help them achieve this American Executive Centers developed our proprietary communications software — The Executive Office System, a Windows-based software product designed to enhance all aspects of your business communication.
Instant access to your Executive Office System profile provides the receptionist and concierge teams with detailed information about your company and important clients, along with special instructions on how to handle your calls that will appear on your receptionist's computer screen as your calls are answered.
Key components of the system include:
Your company profile and description
A list of your important callers and not-so-important callers, complete with instructions on how to prioritize these calls
Any detailed "if" instructions on what to do if a particular person calls
Your schedule, if you have made that available to us
Our team has been carefully selected and trained to use these tools. Their focus in telephone answering is on customer service, and their goal is representing your organization intelligently and reliably.
Contact us at 800-736-6034 for more information on our professional Reception Services.