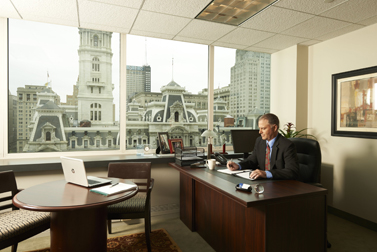 American Executive Centers' mission is to provide the ideal working environment for your law practice. As the Delaware Valley's leading provider of executive suites, our fully-staffed facilities are designed to serve all of your practice's needs. Our support staff handles all the routine office matters, allowing you to focus solely on practicing law and maximizing your firm's potential.
---
Sole Practitioners

We understand you've always had the goal of becoming a sole practitioner. You want to set your own hours, be your own boss and control your own destiny. Starting your own practice is an exciting move, and American Executive Centers has been helping attorneys like you hang their own shingles for more than 30 years. By providing the facilities and support team you need, we help to ensure a seamless transition to your own independent firm.
 Download your FREE whitepaper: 
"Flying Solo: The Fundamentals of Starting a Solo Law Practice"
---
Expanding Practices

Today's competitive market makes it tough to grow your firm without expansion. By penetrating new market areas your firm will have the marketing advantages of being local. American Executive Centers allows you to open in new markets throughout the Greater Philadelphia region without the capital investment, complex logistics and long-term commitment associated with opening a traditional office. Don't let the logistics of running and staffing a satellite office overwhelm you. Be free to focus on success with your expansion office, on-demand.
 Download your FREE whitepaper: 
"EXPANDING YOUR LAW FIRM: How to Grow Your Client Base with the Support of Satellite Offices"
Listen to what our client Scott Reidenbach, Esq. has to say about American Executive Centers on: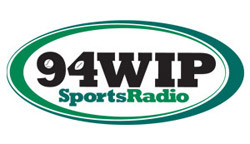 ---
Why American Executive Centers?
Unparalleled Business Support Services
Everything you need, all at your beck and call
When launching your own firm or expanding into a new location, one of the most important decisions you will make is how to hire and manage your support staff. American Executive Centers makes that decision an easy one by providing you a fully trained support staff that's at your service as soon as you sign your lease.
Your secretarial, technical, and paralegal support is on site and available on demand. Forget worrying about hiring a receptionist, bookkeeper, or IT specialist – they are already here and committed to your personal success.
---
More Cost Effective than Traditional Office Space
Shared resources reduce overhead
Don't let the initial investment and recurring costs of running an office prevent you from going out on your own. When you open your office at American Executive Centers, we provide you with more than an office. We provide you with the furnishings, equipment, telephone system, internet connectivity and support staff that you need practice law successfully. All that's missing is you!
---
On-Demand Legal Staff
Solo doesn't mean alone
Finding, hiring and training an assistant can cost you precious time and money that should be devoted to running your practice. American Executive Centers employs experienced paralegals who will help you work more efficiently and affordably, without the overhead and hassle of hiring full-time employees.
---
Prestigious Locations
Rent one—Use all six
American Executive Centers offers six strategic locations throughout the Greater Philadelphia market, including Bala Cynwyd, Plymouth Meeting, Radnor, Malvern, Marlton (NJ), and Center City Philadelphia.
---
Flexible Lease Options
No long-term commitments
Signing a traditional three- to five-year lease, and the capital expenditure involved, can put sole proprietorship out of reach for many attorneys. That's why American Executive Centers offer short-term, flexible leases that are low-risk and come with a Satisfaction Guarantee. If you are not completely satisfied with the office and services we provide in your first 60 days, we'll refund all your setup and installation fees!
---
Concierge and Reception Services
The right first impression for your new clients
Our Front Desk Concierges are fully trained and certified, and they will wow you with courteous and elegant professionalism. Your concierge is also available to assist with a variety of tasks, from arranging catering service to making hotel recommendations and much more.
Using our proprietary EOS phone communication system, your telephone receptionist will have detailed instructions on how to handle each of your calls. He or she will appear to work only for your office. Attorneys enjoy the system's ability to forward messages through email directly to their tablet or PC.
---
Meeting Rooms, Deposition Rooms & Arbitration Rooms
Our rooms fit your legal practice requirements
Our state-of-the-art meeting facilities in six Greater Philadelphia locations come fully equipped with everything you need to make your meetings as productive as possible, including Video-Conferencing, FiOS high-speed internet connections, flat screen monitors, DVD, smart boards and LCD panel projectors. Whether you need a room for a deposition, a mock trial or arbitration, our fully-equipped facilities provide the perfect venue.
---
Community Adds to Productivity
Your solo office comes with a built-in peer network
At American Executive Centers, you will be sharing your suite with attorneys from diverse practice areas, senior executives, entrepreneurs and other professionals, creating an ideal environment for networking. As part of our commitment to helping you succeed, we also provide ongoing networking functions to help our clients make new connections, including attorney peer groups, AEC sponsored CLE's, Lunch N' Learn workshops and introductions by the general manager. We also have office parties and host charity events where everyone can come together and meet in a less-formal environment.