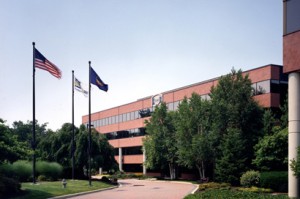 1060 First Avenue
Suite 400
King of Prussia, PA 19406  |  800-736-6034
Get Directions Sign Up Now Pricing Plans
Virtual offices at this landmark building on First Avenue in King of Prussia are in high demand. With an elegant reception area and fully equipped meeting rooms, this is an impressive place to call your office. This virtual office offers on-demand meeting rooms, high speed internet, and reception services as needed. This is an exciting location for technology companies, consultants or any business that serves the area's high tech companies.
The Virtual Office is a customized office facilities and business services program designed for individuals who need access to offices, meeting rooms and support services on an as-needed basis.  With a Virtual Office you'll benefit by having the amenities and professional services you would expect in a large corporate office when you need them, at a fraction of the cost of running a traditional office.
Choose a variety of available plans or allow our team of professionals to customize a plan to meet your needs.
King of Prussia Virtual Office Photo Gallery
What Services are available with a Virtual Office?
Mail Services
Phone Answering and Patching
Meeting Rooms by the Hour/Day/Week
Intake Questions
Making Reservations
Travel Arrangements
Seminar Registration
Taking Orders
Research
Appointment Confirmation
Appointment Scheduling
Social Media Management
Online Chat
Customer Service
Cold Calling
Meeting Preparation
Video Conferencing